Her Action: What We Think, Feel and Do, Affect Tomorrow, including How We Raise The Next Generation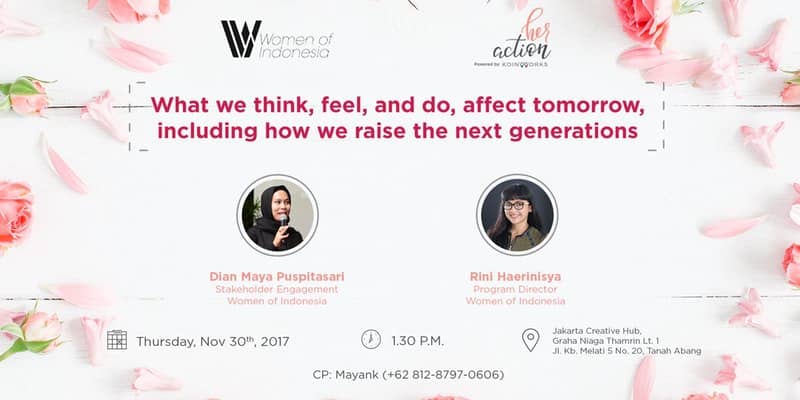 KoinWorks mengadakan acara untuk menginspirasi para Womenpreneur yang sedang mengembangkan usaha nya. Tentunya menjalani peran sebagai ibu rumah tangga dan seorang pengusaha sekaligus tidaklah mudah.
Oleh karena itu, dalam kesempatan kali ini KoinWorks akan mengadakan meetup yang membahas tentang "Her Action: What We Think, Feel and Do, Affect Tomorrow, including How We Raise The Next Generation."
Acara ini akan dihadiri oleh Rini Haerinisya, Program Director dan Dian Mayasari, Engagement Stakeholder womenofindonesia.com yang akan menjelaskan bagaimana achieving goals dalam karir, memberikan motivasi untuk bekerja dengan passion dan excitement yang bukan hanya merasa menjalani rutinitas.
Detail Acara
Tanggal : Kamis, 30 November 2017
Waktu : 14.00 – Selesai
Lokasi : Jakarta Creative Hub, Gedung Graha Niaga Thamrin, lantai 1, Jl. Kb. Melati 5 No.20, RT.2/RW.8 Tanah Abang, Jakarta Pusat 10230 – View Map
---
Pembicara:
Rini Haerinisya, Program Director di womenofindonesia.com

Dian Maya Puspitasari, Engagement Stakeholder di womenofindonesia.com
---
Rundown Acara:
13.00 – 14.00 Registrasi ulang
14.00 – 14.15 Opening oleh MC
14.15 – 14.30 Introduction of Guest Speakers
14.30 – 15.00 Talk Show
15.00 – 15.30 Q&A
15.30 – 16.30 Penutupan dan Foto Bersama
Apa yang akan Anda Pelajari
✓ Cara efektif menjangkau target dalam pekerjaan?
✓ Menginspirasi para pengusaha wanita untuk bekerja dengan passion
Apa yang akan Anda Dapatkan
✓ Kesempatan berkenalan dengan pemilik usaha lain
✓ Kesempatan belajar dari pembicara yang dihadirkan
Persyaratan Pendaftaran
Meetup ini gratis dan kapasitas sangat terbatas!
Pastikan Anda memenuhi kategori/syarat-syarat di bawah ini agar mendapatkan konfirmasi kehadiran dari kami.
Siapakah yang cocok untuk menghadiri event ini?
✓ Womenpreneur Indonesia
✓ Aktif berjualan online, khususnya di Instagram
✓ Bisnis sudah berjalan minimal 1 tahun
✓ Berniat mengekspansi bisnisnya
---
Peserta yang memenuhi persyaratan di atas akan mendapatkan konfirmasi ulang melalui telepon dan email dari pihak KoinWorks. E-Ticket dari Eventbrite tidak berlaku.
---
Info dan pertanyaan dapat menghubungi:
Mayank
081287970606
mayank@koinworks.com
---
---
Event KoinWorks Lainnya:
 Growing Your Local Business: Pentingkah Inovasi untuk Keberlanjutan Bisnis?