HR in Digital Era: Enhance Your Employer Branding to Attract & Retain Tech Talent – Setiap karyawan memiliki peran yang sangat penting untuk meningkatkan kinerja perusahaan, terutama untuk sisi internal perusahaan yang dijalankan.
Dalam hal ini, pihak pemberi kerja yaitu HRD (Human Resources Development) memainkan peran paling besar dalam mengembangkan perusahaan untuk 'menjadi digital' bukan hanya 'melakukan proses digital'.
Ini dikarenakan dunia HR yang kian berkembang pesat dan semakin modern mengikuti pergerakan zaman.
Salah satu cara yang dilakukan oleh HR yaitu merekrut banyak karyawan dengan keahlian yang bervariasi. Tidak hanya merekrut, mereka pula yang harus memutar otak tentang bagaimana cara mempertahankan para karyawannya itu.
Untuk mengetahui jawabannya, KoinWorks dengan mitra Glints Indonesia membuka sesi edukasi seputar Human Resource Management. Sesi edukasi ini diadakan melalui program Glints Expert Class yang bekerja sama dengan KoinGaji.
Pada kelas webinar berjudul "HR in Digital Era: Enhance Your Employer Branding to Attract & Retain Tech Talent" kali ini, kamu akan memahami dan mendalami tentang strategi employer branding yang tepat.
Strategi tersebut dibuat dengan tujuan supaya perusahaan mendapatkan talent terbaik sesuai dengan yang dibutuhkan, khususnya di bidang teknologi.
Yuk, lihat detail acaranya berikut ini.
---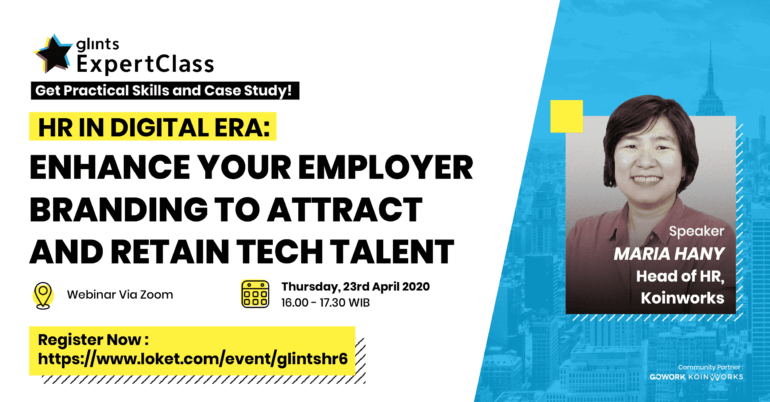 Detail Acara
Tanggal: Kamis, 23 April 2020
Waktu: 16:00 – 17:30 WIB
Lokasi: Webinar Via Zoom App
---
Pembicara
Maria Hany (Head of Human Resources KoinWorks)
---
Dengan menghadiri kelas webinar ini, kamu akan banyak mengetahui ilmu baru seputar strategi Human Resource Management.
Jadi, tunggu apalagi? Daftar sekarang dan perkaya dirimu dengan ilmu-ilmu baru bersama para HR lainnya!
Senin
Selasa
Rabu
Kamis
Jumat
Sabtu
Minggu

1

2

3

4

5

6

7

8

9

10

11

12

13

14

15

16

17

18

19

20

21

22

23

24

25

26

27

28

29

30

31

Kategori
Bazaar
Bersama Mitra
Fintech Days
Komunitas KoinWorks
Sosialisasi dan Edukasi
Umum