Growing Your Local Business: Pentingkah Inovasi untuk Keberlanjutan Bisnis? – Hadir lagi online seller meetup dari KoinWorks!! Kali ini KoinWorks membawa tema tentang inovasi produk.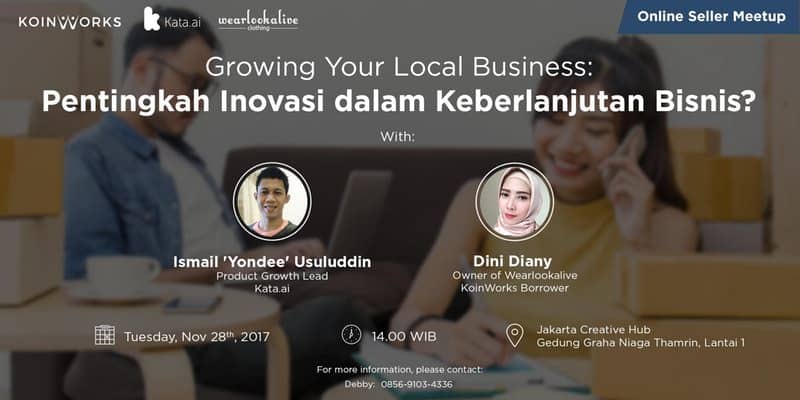 Seringkali business owner masih bingung bagaimana menambah produk inovasi dalam usahanya. Harus mulai dari mana? Inovasi seperti apa yang harus dilakukan?
Apakah akan mendatangkan untung? dan lain-lain. Karena itu, di sesi ini akan dikupas tentang "Pentingkah Inovasi dalam Keberlanjutan Bisnis?"
---
Akan hadir Product Growth Lead Kata.Ai, Ismail 'Yodee' Usuluddin akan membahas tentang perencanaan inovasi produk yang baik.
Tentunya, akan ada pengalaman nyata yang akan diungkapkan oleh owner dari Wear Look Alive dan juga borrower KoinWorks, Dini Diani yang akan sharing bagaimana dia menginovasi usaha nya melalui online.
---
Detail Acara
Tanggal: Selasa, 28 November 2017
Waktu: 14:00 WIB – Selesai
Lokasi: Jakarta Creative Hub, Gedung Graha Niaga Thamrin, lantai 1, Jl. Kb. Melati 5 No.20, RT.2/RW.8 Tanah Abang, Jakarta Pusat 10230 – View Map
---
Pembicara:
1. Ismail 'Yondee' Usuluddin (Product Growth Lead Kata.ai)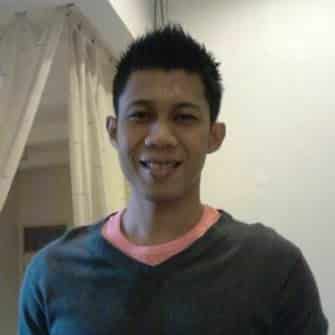 2. Dini Diani (Owner Wearlookalive clothing store, and borrower KoinWorks)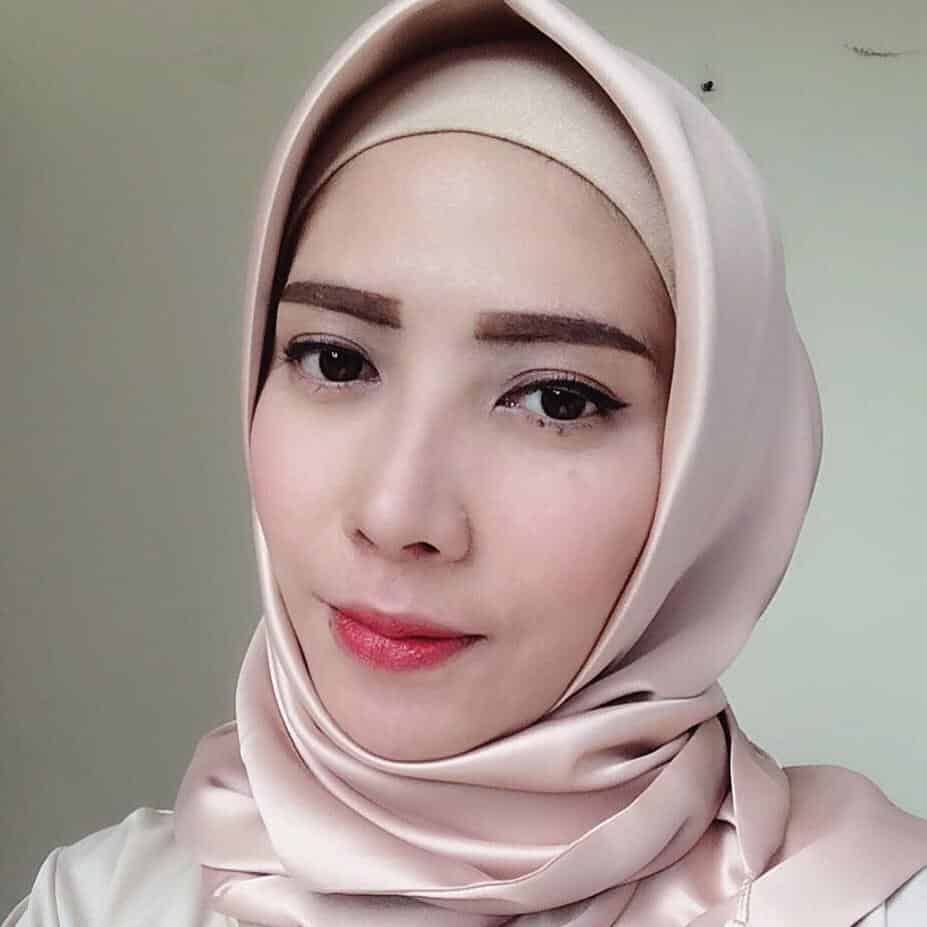 ---
Rundown Acara:
13.00 – 14.00

 

Open registration
14.00 – 14.15 Opening by MC
14.15 – 14.30 Introduction of Guest Speakers
14.30 – 15.00 Speaker 1 (everything about product innovation
15.00 – 15.30 QnA Session
15.30 – 16.30 Talk Show with speaker 1 and 2 + QnA
16.30 – 17.00 Closing and taking photos together
---
Apa yang akan Anda Pelajari?
✓ Mencari peluang inovasi baru
✓ Melakukan research, develop dan innovate
✓ Membuat business model yang tepat
---
Apa yang akan Anda Dapatkan?
✓ Kesempatan berkenalan dengan pemilik usaha lain
✓ Kesempatan belajar dari pembicara yang dihadirkan
---
Persyaratan Pendaftaran
Meetup ini gratis dan kapasitas sangat terbatas!
Pastikan Anda memenuhi kategori/syarat-syarat di bawah ini agar mendapatkan konfirmasi kehadiran dari kami.
---
Siapakah yang cocok untuk menghadiri event ini?
✓ Aktif berjualan online, khususnya di Instagram
✓ Merupakan pemilik dari bisnis tersebut
✓ Komunitas online seller Instagram
✓ Sedang mencari opsi pendanaan (tentatif)
---
Peserta yang memenuhi persyaratan diatas akan mendapatkan konfirmasi ulang melalui telepon dan email dari pihak KoinWorks. E-Ticket dari Eventbrite tidak berlaku.
---
Partner Event
Acara ini terselenggara dengan dukungan dari:
1. Kata.Ai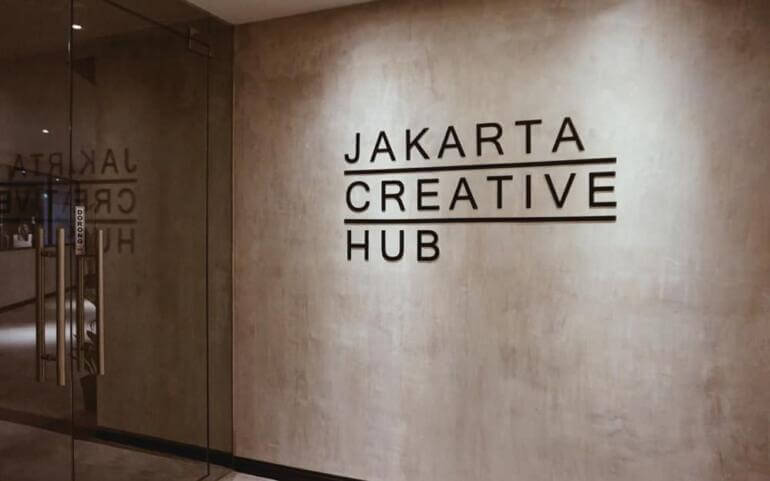 2.. Jakarta Creative Hub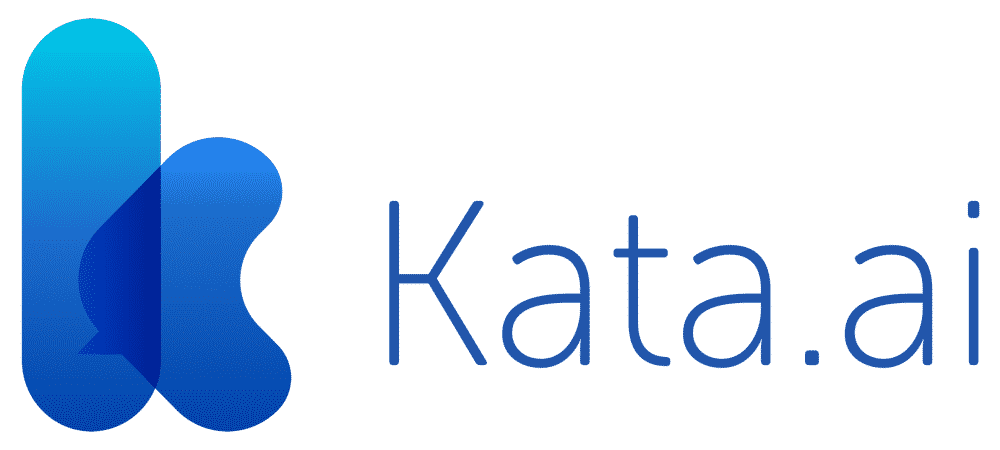 ---
Info dan pertanyaan dapat menghubungi:
Debby
085691034336
debby.natalia@koinworks.com
---
---
Event KoinWorks Lainnya:
 Her Action: What We Think, Feel and Do, Affect Tomorrow, including How We Raise The Next Generation