Perencanaan Keuangan dalam Membangun Perekonomian Indonesia – Dalam komitmennya untuk memberikan edukasi tentang literasi finansial serta financial technology, KoinWorks mengadakan talkshow #MoneyDiary Talks (MDT) yang bisa dihadiri oleh seluruh Lender KoinWorks.
Setiap bulannya, #MoneyDiary Talks akan membawakan berbagai topik menarik untuk dibahas bersama dengan para ahli di bidangnya.
Nah untuk MDT bulan ini, KoinWorks akan membawakan tema yaitu "Pentingnya Perencanaan Keuangan dalam Membangun Perekonomian Indonesia".
Lewat acara ini, Anda tidak hanya akan mengetahui lebih dalam tentang bagaimana Fintech memberikan #PengaruhBaik terhadap perekenomian Indonesia tetapi juga tips mengelola keuangan dalam perencanaan bisnis.
Menarik sekali, bukan? Apalagi bagi Anda yang memang berencana untuk membangun bisnis.
Maka dari itu, pastikan Anda hadir di acara ini dan buat perencanaan bisnis yang maksimal agar bisa memberikan #PengaruhBaik tak hanya untuk finansial pribadi tetapi juga perekonomian Indonesia.
---
Perencanaan Keuangan dalam Membangun Perekonomian Indonesia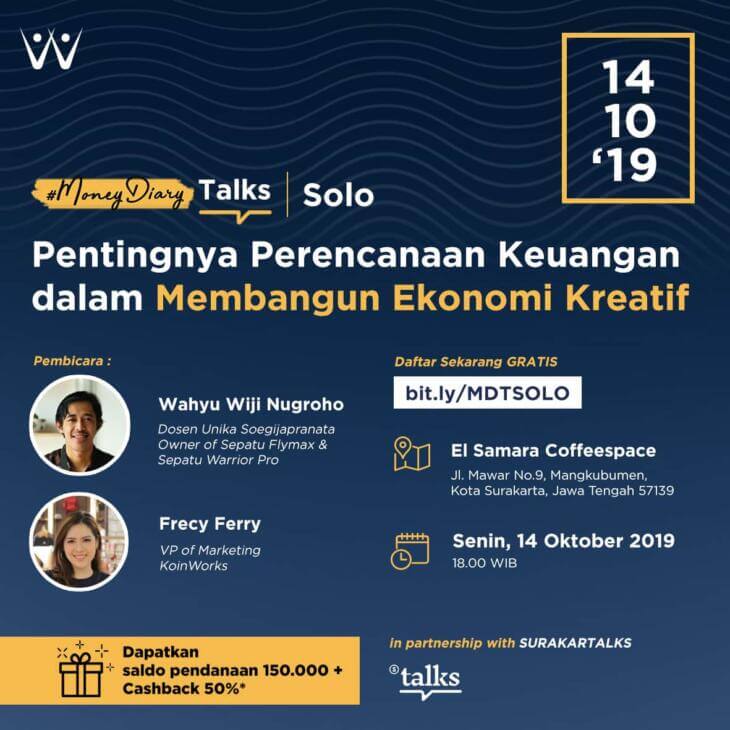 Detail Acara:
Tanggal: Senin, 14 Oktober 2019
Waktu: 18.00 – 19.00
Lokasi: El Samara Coffeespace – Surakarta
Pembicara:
Wahyu Wiji Nugroho (Owner of Sepatu Warrior Indonesia)
Frecy Ferry (Vice President of Marketing KoinWorks)
---
Eits.. tapi tunggu dulu. Sebelum Anda ikut serta dalam acara ini akan lebih seru dan cuan kalau menjadi Pendana di KoinWorks terlebih dahulu. Klik di sini untuk mulai menjadi Pendana di KoinWorks dan dapatkan langsung 150.000 KOIN GRATIS!
Bagaiamana, sudah terdaftar jadi Pendana? Yuk saatnya registrasikan diri Anda di #MoneyDiary Talks kali ini, jangan lupa untuk ajak semua kerabat, ya! Sampai bertemu.
---
Baca Juga Artikel Ini: