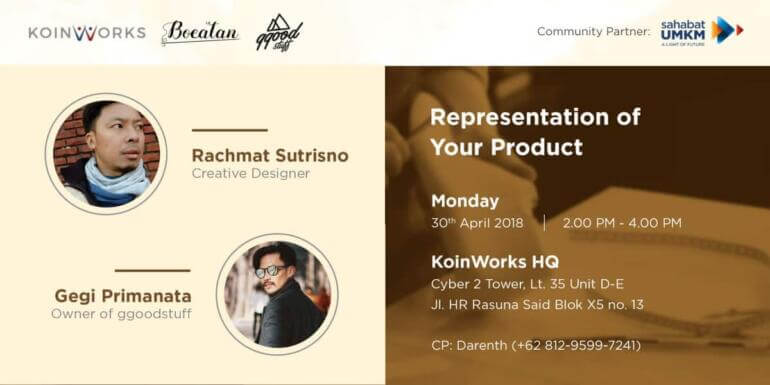 Boeatan: Representation of Your Product – Jika ingin membuat pelanggan mencintai produk yang Anda jual, nyatanya ada beberapa hal yang harus diperhatikan.
Mulai dari harga, kualitas, hingga yang terutama ialah tampilan packaging-nya. Hal-hal tersebut sangat penting lantaran menjadi nilai plus yang mampu meningkatkan penjualan bisnis.
Baca juga: 7 Peluang Bisnis Menjanjikan di Bulan Ramadhan yang Bisa Anda Coba
Oleh karena itu, Anda sebagai pebisnis online harus terus berinovasi supaya Anda tidak hanya memperoleh pelanggan baru saja, tetapi juga pelanggan tetap.
Ya, packaging suatu produk sangat berhubungan dengan branding suatu perusahaan yang membuat pelanggan akan terus mengingatnya.
Baca juga: Ingin Membuat Online Shop? Eitss… Jawab 4 Pertanyaan Penting Ini Dulu!
Namun kenyataannya, product branding perlu dipelajari starteginya. Mulai dari memikirkan brand image, brand value, hingga mengoptimalkan media sosial untuk pemasarannya.
Semua itu bisa Anda dapatkan jika menghadiri acara "Boeatan: Representation of Your Product".
Yuk, belajar soal product branding bersama ahlinya!
Detail acara
Tanggal : Senin, 30 April 2018
Waktu : 14.00 – Selesai
Lokasi : Cyber 2 Tower, Lantai 35 Unit D-E, Blok X5 no 13, Jl. H. R. Rasuna Said, RT.7/RW.2, Kuningan, Kecamatan Setiabudi, Kota Jakarta Selatan, Daerah Khusus Ibukota Jakarta 12950A (View Map)
---
Pembicara
1. Rachmat Sutrisno (Creative Designer & Entrepreneur)
2. Gegi Primanata (Owner of ggoodstuff)
---
Rundown acara
13.00 – 14.00 Open registration
14.00 – 14.15 Opening by MC
14.15 – 14.25 Sesi quiz bagi peserta
14.25 – 14.30 Pengenalan Pembicara
14.30 – 15.00 Pembicara Pertama (Rachmat Sutrisno)
15.00 – 15.20 Pembicara Kedua (Gegi Primanata)
15.20 – 15.40 Sesi tanya jawab
15.40 – 15.50 Sesi door-prize by KoinWorks
15.50 – 16.00 Closing + Sesi Foto
---
Siapakah yang cocok menghadiri acara ini?
✓ Aktif berjualan online, khususnya di Instagram
✓ Merupakan pemilik dari bisnis tersebut
✓ Komunitas online seller Instagram
✓ Sedang mencari opsi pendanaan (tentatif)
---
Persyaratan pendaftaran
Tak perlu mengeluarkan uang untuk mendapat ilmu dari ahlinya karena acara ini gratis. Pastikan Anda sudah mendaftarkan diri karena kapasitas sangat terbatas.
---
Ada pertanyaan? Silakan hubungi:
Darenth
0812 9599 7241
DAFTAR DI SINI