Mau Samsung Galaxy S8? Kunjungi Pagelaran Seni ARTificial Intelligence! – Pada hari Rabu tanggal 12 April 2017 lalu, KoinWorks mengadakan Grand Opening event ARTificial Intelligence di Glass House, The Ritz-Carlton, Jakarta.
Acara ARTificial Intelligence ini sendiri merupakan bentuk apresiasi KoinWorks kepada para peminjamnya lewat balutan karya seni buatan partisipan yang merupakan pelajar/mahasiswa UMN, BINUS Internasional, dan BINUS Northumbria School of Design.
Adapun karya seni yang diciptakan menggunakan material dari produk peminjam terbaik KoinWorks berjumlah 8, dan 7 di antaranya dipajang di Pacific Place Mall, Jakarta.
Nah, di acara Art Exhibition ARTificial Intelligence ini, selain berkesempatan untuk menikmati karya seni buatan kaula muda dengan material yang 'tidak biasa', Anda juga berkesempatan untuk memenangkan Grand Prize berupa Samsung Galaxy S8, lho.
Penasaran, kan, bagaimana caranya? Simak langkah-langkahnya berikut ini: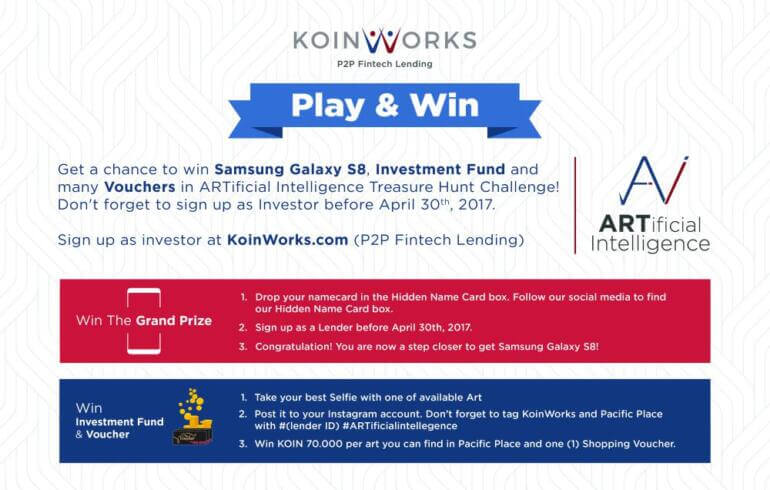 How to Win Samsung Galaxy S8
Daftar sebagai investor di KoinWorks melalui website https://koinworks.com sebelum tanggal 30 April, 2017. Pendaftaran gratis!

Datang ke Pacific Place Mall dan masukkan Kartu Nama Anda ke dalam kotak yang sudah disediakan di sekitar

art piece

yang dipajang.


Untuk mengetahui informasi mengenai di mana lokasi kotak yang dimaksud berada, ikuti terus update terbarunya di media sosial @KoinWorks.

Selamat! Kini Anda tinggal selangkah lagi untuk memenangkan Samsung Galaxy S8
How to Win Investment Fund & Shopping Vouchers
Selain Samsung Galaxy S8, Anda juga berkesempatan untuk memenangkan Dana Investasi dari KoinWorks dan voucher belanja di Tokopedia, lho. Begini cara mendapatkannya:
Selfie di salah satu karya seni yang dipajang. Boleh yang mana saja!

Posting selfie terbaik ke akun Instagram. Jangan lupa tag akun @KoinWorks dan Pacific Place dengan menyertakan hashtag #LenderID (ID Lender Anda di KoinWorks) dan juga #ARTificialintelligence.

Nantikan hadiah KOIN sebesar 70.000 dari setiap karya seni dan juga voucher belanja.
Bagaimana? Mudah sekali, bukan? Jangan sampai Anda kehilangan kesempatan untuk mendapatkan Grand Prize Samsung Galaxy S8, KOIN Investasi, dan Voucher Belanja khusus untuk Anda!
Kunjungi Pagelaran Seni ARTificial Intelligence di Pacific Place Mall, cari tahu makna di balik setiap karya seni, dan menangkan hadiahnya!
*) Pendaftaran dan keikutsertaan lomba ini tidak dipungut biaya apapun. Hati-hati penipuan!