Deposit Makin Mudah dan Instan, Virtual Account BCA Resmi Diluncurkan KoinWorks – Hari ini KoinWorks, perusahaan financial technology yang bergerak di bidang layanan berbasis peer to peer lending, mengumumkan peluncuran fitur Virtual Account Bank Central Asia (BCA) untuk para pendana melalui platform KoinWorks.com.
Virtual Account BCA ini merupakan rekening virtual kedua yang disediakan demi mengakomodir kebutuhan transaksi bagi lebih dari 25.500 pendana di KoinWorks.
Pesatnya perkembangan teknologi seperti sekarang juga tentu berdampak pada kemudahan bertransaksi.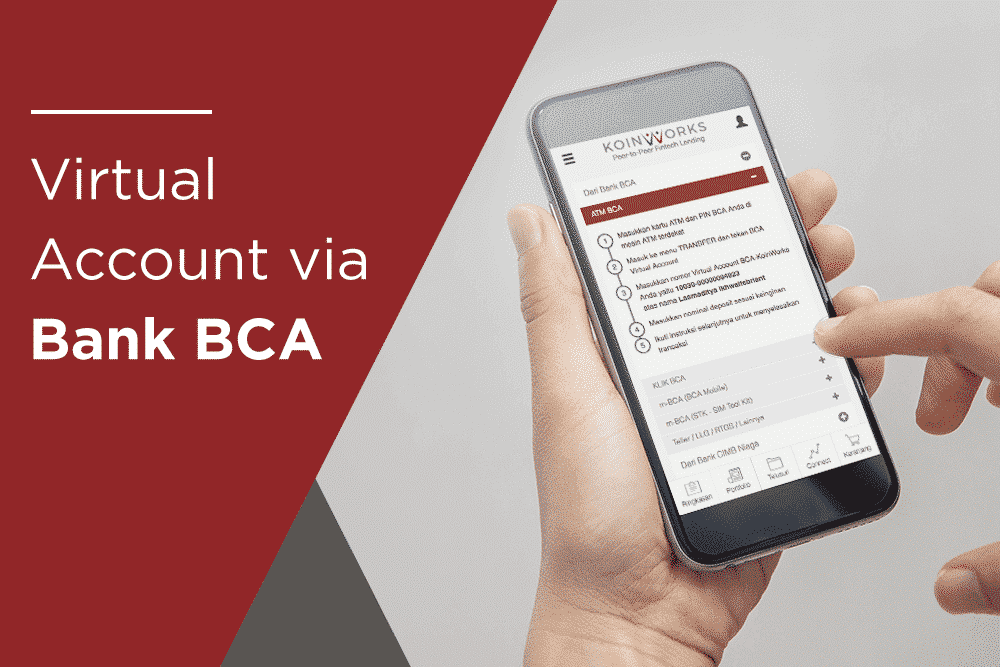 Virtual Account BCA dihadirkan demi memberikan kemudahan deposit dana investasi ke akun setiap pendana, dan proses transaksinya pun terjadi secara real time atau instan.
Dengan begitu, eksistensi rekening virtual ini akan semakin mempercepat proses penyaluran dana investasi ke pinjaman yang diajukan melalui platform peer to peer (P2P) lending KoinWorks.
"Virtual Account Bank Central Asia (BCA) mulai aktif dan dapat digunakan sejak tanggal 30 November 2017. Adanya rekening virtual ini tentu dapat memudahkan proses transaksi bagi lebih dari 25 ribu pendana kami. Semuanya terjadi secara instan, dan hal baik lainnya adalah, itu artinya dana pinjaman, apapun kebutuhan pinjamannya, akan semakin cepat tersalurkan ke peminjam di KoinWorks,"

— Benedicto Haryono, Co-Founder & CEO KoinWorks
Benedicto menambahkan bahwa KoinWorks dalam beberapa bulan terakhir sudah mulai memanfaatkan rekening virtual dari CIMB Niaga.
"Sebelumnya, Virtual Account CIMB Niaga sudah bisa digunakan setiap pendana, dan terbukti, proses transaksi jauh lebih efisien dan pinjaman yang diajukan semakin cepat terpenuhi," terang Benedicto.
Benedicto juga mengungkapkan bahwa pengadaan Virtual Account BCA akan semakin memudahkan pendana kala bertransaksi, sebab menurutnya, semakin bertambah pilihan bank yang bisa digunakan.
Hal ini juga efektif untuk meminimalisir transaction fee yang harus ditanggung pendana bila bertransaksi dari dan ke bank yang berbeda.
"Pengadaan Virtual Account BCA tentunya menambah pilihan pendana untuk bertransaksi sehingga penyaluran dana pinjaman ke beragam peminjam pun akan semakin cepat prosesnya, dan efisien," tuturnya.
KoinWorks pun mengajak seluruh masyarakat untuk bergabung menjadi bagian dari 28 ribu lebih pendana dengan menggunakan kode promo VABCA75 saat pendaftaran.
Dengan kode promo VABCA75, setiap investor baru yang mendaftar akan mendapatkan saldo investasi awal sebesar 75.000 KOIN. (Baca selengkapnya mengenai apa itu KOIN).
Semakin banyak yang bergabung, semakin banyak yang terbantu, semakin majulah negara kita. Untuk informasi lebih lanjut, silakan kunjungi www.koinworks.com dan ikuti informasi terbaru mengenai KoinWorks lewat blog https://koinworks.com dan media sosial di Facebook, Twitter, dan Instagram, @KoinWorks.